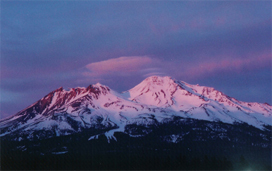 I'm glad to report that the Golden Age is alive and well, right here in Mt. Shasta City. "Creating the Golden Age with each breath I take," (my new motto) is really working!
Yesterday two friends from Ashland, OR came by my office to get directions to my favorite waterfall. We agreed to meet later for dinner. I continued working as they went off to hike and play with the nature spirits. They came back excited, uplifted and talking of rainbows and fairies. I decided that tonight was the night to share a very special bottle of VinFuzion wine called "Amethystos" that I'd been "saving for a special occasion." Amethystos is described as follows: "Organically grown Cabernet Sauvignon, this gem shines out the best of a classic Cab. Aromas of blueberry and black pepper fade into notes of blackberry and cassis set in a rich tobacco and dark chocolate finish. Fined over Amethyst, this is a violet flame." An exquisite wine fit for gods and goddesses, indeed. See http://vinfuzion.com/ for more info.
As we savored our organic Japanese cuisine and the wine continued to breathe, all the above flavors of that incredible Cab (and more!) became apparent. Our town motto, "Where Heaven and Earth meet," was beginning to become very apparent. Each one of us bubbled over with enthusiasm and joy as we toasted to over 20 different, wonderful hopes and dreams. We shared stories of childhood experiences with nature spirits, present time connections to inspiring uplifting events, shamanic journeys into the Inner Earth, finding Twin Flames and much more. Laughter and enjoyment were key ingredients as we goddesses opened our hearts and poured out their contents to each other. A more delightful dinner I've yet to experience.
With our last bite of chocolate cake and mango sorbet staring at us, we decided that we absolutely must top off the night by driving up Mount Shasta, while there was still a little daylight left. They hadn't yet seen the 10+ feet of snow Mother Nature gave us this winter at the Bunny Flat area. That powerful energy vortex was bedecked in her beautiful winter frock and I couldn't wait to show them.
The waxing full moon in Libra had not yet risen, but its presence was still felt as we wound our way up the mountain road. We were the only people at Bunny Flat with a strong wind blowing and light snow falling. We silenced our car and focused in on
the energy of the moment. The spirits of the mountain greeted us with their love and uplifting energy, making us feel supported and honored as we gratefully acknowledged the power and love all around and within us – the perfect complement to our awesome 'goddess meal.' Meditation and sharing complete, we drove down the mountain slowly, drinking in the beauty around every curve in the road, with smiles on our faces and love in our hearts – as happy as we could possibly be.
When I finally hopped into bed that night, I noticed a distinct, glowing warmth in my heart and my belly, and that smile was still 'stuck on my face.' As I floated off into dreamland I began to contemplate how delightful it will be when every day is filled with the love, joy and blessings that we three experienced today in Mt. Shasta…a more perfect Golden Age moment I couldn't imagine.

Shasta Vortex Adventures operates under special use permit from the US Forest Service,
is fully insured and operates on a non-discriminatory basis.
Call Shasta Vortex Adventures at 530.926.4326
visit our office at 400 Chestnut St., Mt. Shasta, CA 96067
or us!