Ashalyn doesn't write poetry, she records it – as given to her by the nature spirits. She sits quietly next to a particular rock, flower, stream, etc., says hello, sends it her love and listens for a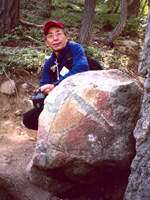 message to come through. Sometimes she asks them, "What do you want the humans to hear?" Often the words come into her head as quickly as she can write them down. Very seldom do they need any editing.
Rocks were the first ones to speak to Ashalyn over 15 years ago. She was laying on her back next to the Sacramento River in Dunsmuir, California hoping to release some of the pent up anger she felt inside her for no apparent reason. As she was breathing deeply and quieting herself on that warm summer day, she began to hear words in her head…words that turned into poetry as she listened more intently.
Time immemorial runs through our veins.
We see . . . we see.
Ask us for that which you seek.
We see . . . we see.
Since that time the rocks have told her they are the record keepers, absorbing the history in their local area, "waiting to share it with those who can hear." Trees, with their many rings, are the timekeepers. Water is the lifeblood of the planet. And flowers are a spot of color to delight the human mind!
Ashalyn has thoroughly enjoyed this pursuit over the years and is always delighted when a new poem pops into her head. She hopes you enjoy them as much as she does!
_________________________________________
Ashalyn's Poetry


_____________
____________________________________________
received from Spider Web
_________________________________________
received from the Fairies at Soda Creek
________________________________________________
received from the Fairy Queen

Shasta Vortex Adventures operates under special use permit from the US Forest Service,
is fully insured and operates on a non-discriminatory basis.
Call Shasta Vortex Adventures at 530.926.4326
visit our office at 400 Chestnut St., Mt. Shasta, CA 96067
or us!
This website is copyrighted ©2010 by Shasta Vortex Adventures. All rights reserved.
Any and all graphics, photos, text and concepts are not to be copied or used without prior consent.