Robin Kohn has a great love for the outdoors and enjoys sharing the beauty and unique opportunities of nature with others. "On a tour, I encourage people to let go of everything that's on their mind and become aware of what's happening around them in the present moment."
For many years Robin has been active in the Mt. Shasta area, exploring and enjoying outdoor recreation activities. She obtained a Bachelor of Arts degree in Recreation Administration at California State University, Chico. Her experiences in the area include working with the U.S. Forest Service, National Park Service and California State Park System. She is a W.E.A (Wilderness Education Association) certified guide and has guided groups in various outdoor activities. Additionally, Robin has worked for many outdoor programs, researching, planning, and leading activities and trips. She has over twenty years of ski experience, has taught backpacking clinics, is an EMT and has also been a member of the Siskiyou County Sheriff's Search and Rescue Team.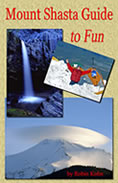 Robin is author of the new book, "Mount Shasta Guide to Fun," a thorough introduction to most of Siskiyou County's best natural spots. In the book and on her tours Robin enjoys sharing details about the history,  geology, flora, fauna, myths and legends, and glacial wonders of the Mount Shasta area. Click here to order. If you really want a first hand experience of the volcanic aspects of Mount Shasta, sign up for Robin's "Perfect Around the Mountain Driving Tour ."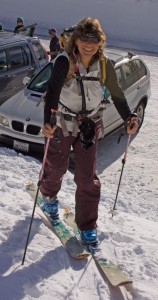 Robin offers:
• Exploratory Hikes
• Back Country Ski Trips
• Perfect Around the Mountain Driving Tour
• Scenic Vehicle Tours
• Step-On Bus Guiding
Exploratory Hikes: Come explore the wonders of the second highest mountain in the Cascade Range with us. Hike the varied low elevation terrains (9,000 feet and below) of 14,179 foot high Mount Shasta, including the Old Ski Bowl Trails, Wagon Camp Road, Grey Butte, Green Butte, the Sierra Club Hut,  Sand Flat, Wagon Camp Road and much more. Discover hidden springs, meadows, old growth forests, alpine wildflowers, the mountain's unique geological history and plenty of peace and quiet in the wilderness.

We can also explore the many natural treasures hidden in The Eddys mountain range, Deadfall Lakes, Gumboot Lake, Lake Siskiyou, Box Canyon Dam, Castle Lake, Castle Crags State Park and more. Enjoy the many enticing waterfalls of the Sacramento and McCloud Rivers and take a dip (if you dare) in their cool, refreshing alpine waters.
Back Country Ski Trips are half or full day outings designed to introduce you to back country skiing. Robin also encourages you to put your thoughts aside and be fully present in the magnificence of nature. You will learn how to be in the elements, conserve energy and break trail, as well as the basics of climbing, side stepping, kick turning, duck walking, and using skins.
Perfect Around the Mountain Driving Tour: Come experience Mount Shasta in its entirety! Experience firsthand the inside of a tephra cone and the intensity of a mud debris pyroclastic flow. Get a close-up view of the five major glaciers and the historical diversion structure built in the 1920's and 30's to prevent mud flows into the town of McCloud. This is a driving tour with a minimal amount of hiking and is customized to your needs.
Scenic Vehicle Tours are for those who aren't up for much hiking but still want to see as many places as they can in a short period of time. Be sure and bring your camera! Robin's an excellent photographer. Robin will guide you to scenic waterfalls, lakes and mountain vistas while entertaining you with local history, geology, legends and stories about the Mount Shasta area
Step-On Gus Guiding involves stepping onto your bus full of passengers and directing you to beautiful, scenic and historical sites in the Mount Shasta area and South Siskiyou County. Robin will also entertain you with local history, geology, legends and stories about the area.

Shasta Vortex Adventures operates under Special Use Permit from the US Forest Service,
is fully insured and operates on a non-discriminatory basis.
Call Shasta Vortex Adventures at 530.926.4326
visit our office at 400 Chestnut St., Mt. Shasta, CA 96067
or us!
This website is copyrighted ©2017 by Shasta Vortex Adventures. All rights reserved.
Any and all graphics, photos, text and concepts are not to be copied or used without prior consent.