Dreaming the Dream

© 2005
received from the Sun


Behold the Golden Orb you call sun . . .

the supporter of all that lives and breathes upon the Earth.
You've been given the opportunity to play here,
to live, learn and grow among a myriad of creations
as you, yourselves, learn to create and uphold
the honor of being human.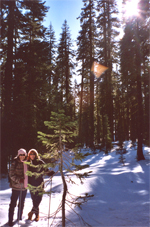 Earth was given to you to participate in
as you expand upon the beauty that you are . . .

a garden of sheer delight and pleasures innumerable,
as you sleep quietly
and dream The Dream.

You are the Dream Weavers, the builders and destroyers
of all that you see here, no matter how small.
You are the Dream Weavers who carry Great Medicine,
linked with the Stars and with the Earth.
Weavers of destiny, weavers of great beauty,
weavers of pain and defeat . . .

grand practitioners all!
Within you lies the ability to see
The Dream, behind The Dream,
behind The Dream.
Your life story builds with each new thought
the castles of your dreams.

Discover, young ones, the Grace and the Beauty,
the Power and Peace that's within.
Walk tall in your human form
and know you've not quite been born…
a fetus, still preparing to emerge,
into the grand, grand discovery
of what's truly you and me.
Are you The Dreamer . . .

or are you The Dreamed?

Shasta Vortex Adventures operates under special use permit from the US Forest Service,
is fully insured and operates on a non-discriminatory basis.
Call Shasta Vortex Adventures at 530.926.4326
visit our office at 400 Chestnut St., Mt. Shasta, CA 96067
or  us!
This website is copyrighted ©2010 by Shasta Vortex Adventures. All rights reserved.
Any and all graphics, photos, text and concepts are not to be copied or used without prior consent.