Delicate Moments
© 2005
received from the Faery Queen
As I place my feet upon a mossy rock at river's edge
I feel each perfect tendril upon the soles of my delicate feet.
Narry a tendril is moved by the weight of my slight body
as the two of us remain entranced,
sole to soul, body to body.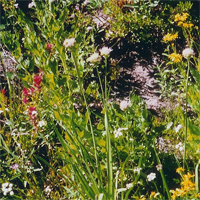 "Walking upon The Mother is a delicate matter
for those who know the significance of interaction . . .
as one foot lies upon another's body.
Sole to soul you unite
as the tender streams of Love flow between the two . . .
lost in Rapture's moment, sharing deeply, seeing beyond
a sometimes-too-cluttered reality
that closes doors to intimate moments
spent in the Rapture of Peace between the two.
Human feet hold more weight than mine
as they stand upon The Mother.
Strong and true, She provides ample support
as you walk to journey's end.
I see the love within your heart
and I say let it out freely
for there is absolutely no reason to hold it back!
The more you share, the larger love grows
and pretty soon you won't know what else to do
besides love.
It really works that way!
What I wish to share with you is the Love of the century,
which so many will call it,
and you will be the catalyst as you watch it grow!
But what is missing, more often than not,
is Human's recognition of the delicate bonding
that occurs beneath your feet.
Many a Human catastrophe could have been prevented
if only you had recognized that union –
sole to soul, body to body.
So as you travel upon this planet
take a moment to honor the bond that is forming
between you and She,
and thank Her for Her unlimited support
on this your great Earth Walk.
Tender moments spent in this pursuit
are invaluable to your state of Peace.
Too many disharmonic messages are received each day
as we shift and shuffle aimlessly in pursuit of this or that,
not caring or perhaps not even knowing
of the electrical bonding
sole to soul, body to body
that is occurring in each precious eternal moment.
Some say "Ignorance is bliss," but I beg to differ
for true Bliss is found within the knowing
of who you are and what you represent,
as you move forth in purposeful union
with the All That Is within your very soul.
Simplify, I say to Human ears . . .
simplify your needs and desires,
for no Mercedes convertible, no matter how prestigious,
will ever make it through the gates of Heaven!"

Shasta Vortex Adventures operates under Special Use Permit from the US Forest Service,
is fully insured and operates on a non-discriminatory basis.
Call Shasta Vortex Adventures at 530.926.4326
visit our office at 400 Chestnut St., Mt. Shasta, CA 96067
or  us!
This website is copyrighted ©2012 by Shasta Vortex Adventures. All rights reserved.
Any and all graphics, photos, text and concepts are not to be copied or used without prior consent.