Check out Ashalyn's other
website Ashalyn.com – channeled books for your awakening.
Ashalyn's latest book,  And the Earth Spoke: true stories to inspire & awaken, is now available for purchase at Ashalyn.com. It's a compilation of poems and stories Ashalyn received from sentient Earth beings over the last 25 years. They speak of our oneness and how important it is to work together with them.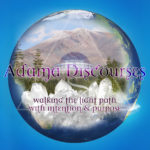 In Adama Discourses: walking the light path withintention & purpose, channeled by Adama the Telosian, you'll learn about the ancient continent of Lemuria, the crystal city of Telos that exists beneath Mount Shasta, what the Telosians have to say about how we can live in a peaceful, loving way, and much more.
"The Emerald Tablets for 2012 & Beyond," channeled by Thoth the Atlantean, are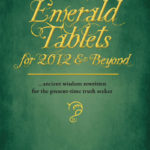 ancient documents that were rewritten "for the 21st century reader." As King Priest of Atlantis and of Khem (ancient Egypt), Thoth has much mystical wisdom and knowledge to share about us remembering who we really are. You can read sample chapters and purchase her books at Ashalyn.com.
Watch Ashalyn's new 1.5 hour video from the May 2016 Wesak Celebration  in Mt. Shasta, CA.
"You are more incredible than you know." Ashalyn shares some of what she's learned about people on her Mount Shasta Sacred Site Tours, discusses her "oversoul components," and also channels messages from Maitreya and Saint Germain. "It's time to access your own expansive nature to better understand who you are and what you're here to accomplish, so you can do that work now."


This video is a 15-minute introduction to the one above on your incredible self, which includes a channeled message from Ascended Master Saint Germain about manifesting your dreams.
Watch Ashalyn's 2012 video interview on Telos as she discusses the meditation journeys she's been leading into Telos since 2005 on her Sacred Site Tours.

Listen to Ashalyn's 4-minute National Public Radio interview

about sacred Mount Shasta, aired on June 7, 2015

click here.
Listen to Ashalyn's October 7, 2014 pod-cast on Paradigm Shifters with Veronica Entwistle about Ashalyn's book,

"The Emerald Tablets for 2012 & Beyond,"

Thoth the Atlantean, and other spiritual growth and awareness issues. Click here to listen to the one-hour interview.

Shasta Vortex Adventures is a world-renowned Mount Shasta tour guide company and Integrative Wellness Center, in business since April 2003. Their mission statement is:
. . . soul searching on a sacred mountain
Ashalyn has lived in Mt. Shasta, CA for over 28 years. She is Owner of and Tour Guide for Shasta Vortex Adventures. She's a psychic healer and reader, teacher, channel, workshop leader and published author of three channeled books.

Ashalyn has always had an intimate relationship with nature. She loves to create the perfect Mount Shasta tour for people. Tours include guided meditations, transformational healing, channeling, awakening to the truth of who you really are, and what you should be doing now with your innate skills and talents. "Your authentic self is awaiting your expression." Ashalyn's been involved in metaphysics and alternative health since the mid-1970s. Her Shamanic Awakening Sessions always include healing as well as valuable spiritual tools and information as she guides you towards your next step with strength, clarity and intuitive wisdom.
Ashalyn wants to create a Mt. Shasta Health Resort and she needs your help to do so. If that's a project you'd like to be involved in, please let Ashalyn know. View her potential plans here.
The Resort's Mission Statement will be:
. . . to promote optimal health of body, mind and spirit at a unique retreat, conference & healing center in Mt. Shasta, California.
Ashalyn's personal mission is:

. . . transformational healing, awakening and empowerment of others so they can enthusiastically express their divine purpose.
Ashalyn offers spiritual seekers:
• Sacred Site Tours
• Guided Vision Quests
• Snowshoe Sacred Site Tours
• Scenic Vehicle Tours
• Step-On Bus Guiding
• Shamanic Awakening Sessions
May 29, 2016 Sacred Site Tour Testimonial:
"All my expectations and intentions for the day were met and beyond. I will take the insights and reflections of personal power gained, and am committed to using them every day. I am eternally grateful for Ashalyn's insight and the gentle, but not so subtle pushing – that was required for me to face my fears. A life changing experience."
~ Yvonne MoonStar, Reiki Master; San Diego, CA
• Sacred Site Treks
We take you to vortex, portal, sacred spring sites, etc. to help you experience the powerful energy of those areas. There we lead guided meditations to assist you in connecting with the energy of place and attaining your intention(s) for the day. Transformation occurs for those who are ready to let go and awaken to their divine self and life purpose. These tours are low to medium impact, half- or full-day journeys designed specifically for you or your group at beautiful, serene, awe inspiring sacred sites in the Mt. Shasta area.
• Snowshoe Sacred Site Treks
Just the same as a Sacred Site Tour, only during the winter on snow as Mount Shasta becomes a Winter Wonderland.

• Guided Vision Quests
This full-day journey includes everything in a Sacred Site Tour and more – focusing specifically on what's needed for your spiritual growth in that moment. This journey is designed for those searching for in-depth personal growth, awareness, an understanding of life purpose and what their next step(s) might be. State your intention and see where that takes you. Hopefully by the end of the day your intentions will be met and your view of life will include more enthusiasm and clarity about what you have to offer the world.

• Scenic Vehicle Tours
are for those who aren't up for much hiking but still want to see several places in a short period of time. Be sure to bring your camera. Ashalyn will take you to scenic waterfalls, lakes and mountain vistas while entertaining you with some local history, area legends about the spiritual energy vortex of Mount Shasta, guided meditations and more.
• Step-On Gus Guiding
involves  a guide stepping onto your bus full of passengers and directing you to beautiful, scenic and historical sites in the Mount Shasta area and South Siskiyou County. Ashalyn will also share a bit of local history, myths and legends about the spiritual energy vortex of Mount Shasta, as well as guided meditations if you choose. We do not have our own bus, so we don't offer bus tours for individuals.

• Shamanic Awakening Sessions
One-hour sessions to awaken and enlighten you about who you are, your life purpose, and whatever spirit wants to tell you that day. They may include past life regressions, soul retrieval, inner child work, energy clearing, dimensional journeys to remember where you came from, channeling, connecting you to your higher self, and more.

 Shasta Vortex invites you to
"Come share the Mount Shasta Magic with us."


Shasta Vortex Adventures operates under Special Use Permit from the US Forest Service,
is fully insured and operates on a non-discriminatory basis.
Call Shasta Vortex Adventures at 530.926.4326
visit our office at 400 Chestnut St., Mt. Shasta, CA 96067
or us!
This website is copyrighted ©2017 by Shasta Vortex Adventures. All rights reserved.
Any and all graphics, photos, text and concepts are not to be copied or used without prior consent.